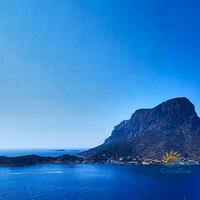 Telendos
The magic of Climbing
Telendos is a small island in the Dodecanese and is located in the west of Kalymnos, just 0.5 miles away. On the island of Telendos is dominated by the plateau "Rachi" with a maximum altitude of 460 meters.
The only and homonymous settlement of Telendos is located on its eastern coast, inside the bay, just opposite the village of Myrties in Kalymnos, with which it is connected with small boats, "sea taxis" that perform regular transport.
Also, there is no road network on the island and is suitable for hikers.
The basic occupation of its inhabitants is fishing. In addition to fresh fish and seafood, authentic Thyme honey, herbs and herbs are produced on the island.
How to get to Telendos
The only access to the island is from Kalymnos which connects with boats starting from Myrties and making regular trips. At 10 ′ you will be in Telendos.