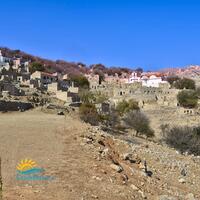 Medieval village of Small Village
Mikro Chorio (Small Village) was built in the 15th century in the hills above Livadia and was abandoned by its inhabitants after the Second World War. Today, the village is ruined, while abandoned half-broken stone-built houses, castles ruins, stone-paved streets and Byzantine churches with ancient hagiographies survive. The evergreen oaks and olives always stand there hiding the secrets of the past of the island and offer shelter to the birds that build their nests every spring.
In Mikro Chorio operates the only bar in the settlement, where one can enjoy its drink under the moonlight, in a unique medieval setting.