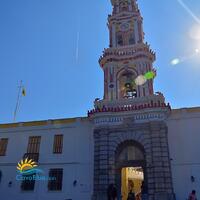 Holy Monastery of Archangel Michael - Panormitis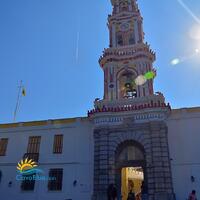 Holy Monastery of Archangel Michael - Panormitis
The most important sight of Symi is the monastery of Archangel Michael (Panormitis). It was built in the beginning of the 18th century in the homonymous bay, in the southwest of the island, in a place combining mountain and sea. It has marvelous Byzantine frescoes and elaborate wood-carved iconostasis, while in the monastery's catholic (15th century) dominates the dazzling whole-world image of Archangel Michael.
Next to the Monastery there are two museums, one Ecclesiastical and one Folklore. In the Ecclesiastical Museum the visitor can admire the ecclesiastical heirlooms of the Monastery, numerous functional manuscripts with variegated artistic decoration, portable icons, precious sacred vessels, golden vestments, silver buckles and plenty of remarkable vows. The Folklore Museum exhibits everyday objects and portrays the way of life in Symi of earlier times.
There is a tavern, a refreshment room, an oven and a mini market. Also, the monastery has cells in large hostels where a number of pilgrims are hosted each year.
In Panormitis, thousands of visitors arrive daily to admire the unique peaceful landscape and fulfill their vows. Panormitis has done many miracles, and many islands from the Dodecanese and from various parts of the world are accustomed to sending tributes to pieces of wood or cork which, although traveling for many miles, eventually reach the port of the Monastery.