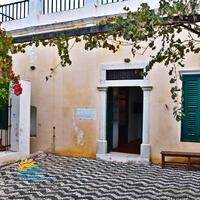 Archaeological - Folklore Museum
The Archeological - Folk Museum of Symi was founded in 1961 and is located in Ano Symi, in the Lieni area, and is housed in a traditional mansion of the Gianneski family, which consists of a galley, a cistern and a yard. At the entrance of the museum there is an exceptional pebbly courtyard, where amphoras, sculptures of various historical periods, as well as ancient inscriptions are displayed.
In its five halls, it hosts collections that include findings from the Classical, Hellenistic, Roman and Byzantine periods, as well as folklore exhibits. The museum's exhibits include tombstones, vases, lamps, coins from the Roman period to the knighthood. Among the exhibits of particular interest is the representation of the interior of the common house, which gives a clear picture of the daily life of the inhabitants in the past years.