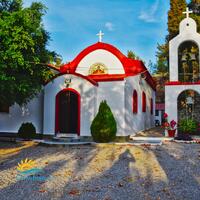 Monastery of Virgin Mary "Pantanassa"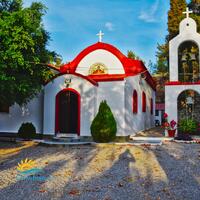 Monastery of Virgin Mary "Pantanassa"
The Monastery of Virgin Mary "Pantanassa" is located on the western side of the island, between the villages of Theologos and Soroni, at a distance of some 30 kilometers from the city of Rhodes.
The erection of the temple began in 1995 at the initiative of the Archimandrite of the Ecumenical Throne, Serafim Parcharides, in a parcel given by Michael Boniatis. The monastery received the name "Pantanassa" from the homonymous miraculous icon of the Holy Monastery of Vatopedi of Mount Athos.
The monastery complex was built gradually. The first buildings included a chapel, cells, kitchen and auxiliary spaces. Then the katholikon and two two-storey buildings were built, which housed the patrimony, the altar, the guesthouse and the cells of the monasteries. It was completed in 2003 with the construction of the dining room for pilgrims.
Moreover, in the shop of the Holy Monastery, which is hosted in a specially designed area, the pilgrim has the possibility to obtain various memories, including books, prayer beads, icons, christenings, etc.
The iconostasis is marble following the typical tripartite division. On the northern side of the temple dominates a ornate wooden shrine which houses the copy of the miraculous icon of Virgin Mary "Pantanassa". The temple was painted in 1998-1999 by hagiographers Taso and Antika Papageorgiou. On the southwest side, in the monastery's courtyard there is the bell tower which is 8 meters high.
In 1997 the first nuns were settled, while today the Monastery numbers a three-member nuns.