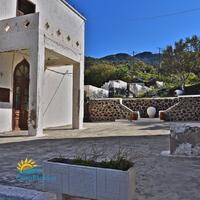 Municipal Thermal Baths of Nisyros
Nisyros Municipal Thermal Baths are located 1500 meters north of Mandraki, the capital of the island, and were founded in the late 19th century. They are hot springs, from which hot water gushes and the maximum water temperature can reach 46 degrees Celsius.
In particular, it is a mix of seawater and rainwater with the geothermal fluids of the upper warm horizon. These, as warm and lighter, manage to get close to the surface, following the large cracks and cracks in the area.
The Thermal Baths of Nisyros are renowned for their healing properties in rheumatoid arthropathies, skin diseases and diseases of the circulatory system.