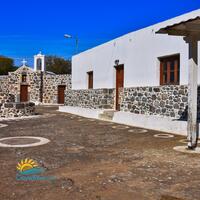 Monastery of Evangelistria
The monastery of Evangelistria is just 4 km from Mandraki, the capital of the island. It is a very picturesque, stone-built chapel with a large courtyard. At the entrance of the monastery dominates the centuries-old "gramythia", which gives visitors its wide shadow. It also has a guest house where pilgrims can accommodate.
The monastery celebrates every year the Bright Tuesday.