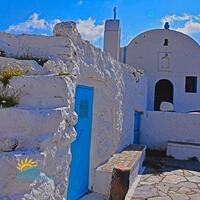 Holy Monastery of the Holy Cross
The Monastery of the Holy Cross is located at the southernmost and most remote point of Mandraki, the largest settlement of Nisyros. The whitewashed chapel is built near the volcano and the view it offers is fascinating.
Each year, on the eve of the Holy Cross on September 13th, there is a big festival featuring songs, dancing and traditional food.