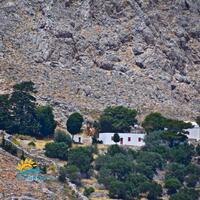 Archangel Michael "Panormitis"
Panormitis church is located near the village of Chalki and is dedicated to Archangel Michael. It is a relatively large church, surrounded by tall trees and has a large courtyard. The Metropolitan throne, which is inside it, is impressed.
Right behind the church of Panormitis is the church of Palaios (Old) Panormitis. It has very interesting hagiographies, as the chapel is relatively well preserved. Some of them, in fact, are defiled by carvings from the Ottomans in the Dodecanese.