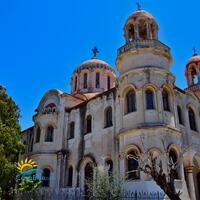 Agios Georgos tou Horafiou (Santape)
The church of St. George of Chorafios (Santape) is very impressive because of its size and style. The church is imposing with magnificent architecture and, although unfinished, it has been standing in the same place for years, to remind visitors of the island the old glory of their place.
Access to the temple is not possible, making it unreachable. However, if you look at it, the interior looks impressive with marble columns and marble iconostasis.