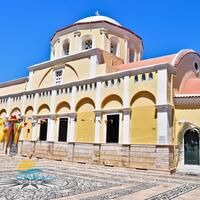 Cathedral of the Transfiguration of Jesus Christ
The Church of the Savior Christ (Kalymnos Metropolitan Temple) is one of the most beautiful spots on the island, with paved courtyards, a clock tower and the former Italian administration (today's District Building).
It is a picturesque church with impressive hagiographies by well-known local painters. Equally impressive is the throne of the temple. The Metropolitan Church of Christ the Savior was recognized as the most recent monument because of its particular historical, religious and cultural value.