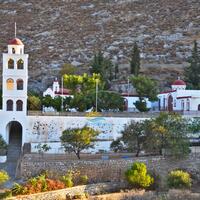 Monastery of Saint Sophia
The Monastery of Saint Sophia is an old-fashioned women's monastery and is located right next to Chrysocherias Castle. The monastery area comprises the temple and the cells of the monks, which are placed around it, thus creating a fortress. It has two entrances. At the first entrance there is a belfry, while the second one has an arched opening with a dome.
The church of Saint Sophia is built on a hill, slightly higher than the Castle, and is of the Aegean type.