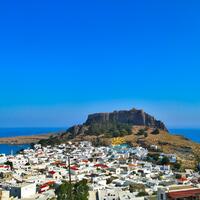 Castle - Acropolis of Lindos
The Acropolis of Lindos is an archaeological site that is built on a cliff of 116 meters high, dominating over the traditional settlement of Lindos in Rhodes. With a walk in the castle, the visitor enjoys the stunning view of the sea, while at the same time when browsing inside he feels that time is running back.
The Acropolis was built in the 4th century BC. and is surrounded by the walls of the Knights. Remarkable is the Doric Temple of Athena Lindia, as well as the Knights' Administration and the Church of St. John.
Although Lindos has been continuously inhabited for centuries, this site has a rich history and has uncovered archaeological finds from the Archaic era and beyond, but also building activity, dating back to the period of the Hippocracy. This rich history, combined with the unique beauty of the natural scenery of the site, make the Acropolis of Lindos one of the most popular archaeological sites in Greece, as it ranks third in traffic.