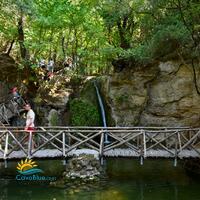 The Valley of the Butteflies
One of the most famous sights of Rhodes is the famous Butterfly Valley. It is a special habitat that hosts a very rare species of butterfly, found in very few places around the world, with the characteristic four orange dots on each wing. This butterfly appears in this magnificent natural park from mid-June to late September.
The Butterfly Valley is a lush valley, crossed by a small river, the Pelican. It features well-formed ponds with water lilies, shady paths, wooden bridges and small waterfalls. During your visit, you will notice butterflies sleeping on the shady sides of tree trunks or around the roots. The spectacle of the butterfly colony is fascinating and if the butterflies are awake they form a cloud which is very impressive as it reveals the orange color of their wings.