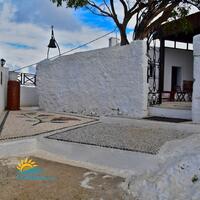 Virgin Mary "Tsambika" (Kyra)
The church of Virgin Mary "Tsambika" in Rhodes is the protector of the island and has done countless miracles all over the world. It is even said to give a blessing to childless mothers to have a child. Virgin Mary "Tsambika" is honored and worshiped in two places. About two kilometers from Archangelos village, there is a small chapel of Virgin Mary "Tsambika", Psili or Kyra as it is called, which is built on the top of a hill and at a height of 326 meters. The visitor is fascinated by the panoramic views and the chilling landscape.
Also, about three kilometers east of Archangelos village, is a monastery complex built in honor of the Virgin Mary of Tsambika. In that area there was a necropolis from the Mycenaean era.