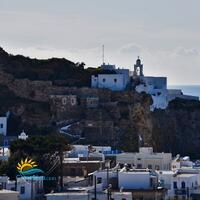 Nisyros
A Dormant Volcano
Nisyros is a Dodecanese island located northwest of Rhodes, between Kos, Tilos and Astypalea. It has an area of approximately 41 square kilometers and a total coastline of about 24 kilometers. In 1950 its population numbered 2,516 inhabitants, but at the last census (2011) its population was 987 inhabitants. The capital of the island is Mandraki, while other villages of Nisyros are Emporios, Paloi, Nikia and Loutra.
Nisyros is a volcano forming part of the volcanic arc of southern Greece. It is located on the edge of the Aegean arc, along with the island of Kos and the island of Giali. The first underwater explosions took place 150,000 years ago, while the main activity occurred 40 to 10 thousand years ago.
Nisyros consists of volcanic mountains, while the center of the island occupies a caldera with a diameter of 4 km, from the bottom to the surface of which is found sulfur. Inside the caldera is the largest hydrothermal crater in the world, Stephanos, which has a diameter of 300 meters, while in total, Nisyros has 5 craters. Because of the volcanic activity in Nisyros, there are hot springs with a temperature of 30 °C to 60 °C, the most important of which are in Loutra and Paloi. A volcanic structure rises to about 700 meters, giving the highest altitude of the island.
Its morphology has been influenced by its volcano and volcanic soil, which is very fertile and favors arboriculture and rich vegetation.